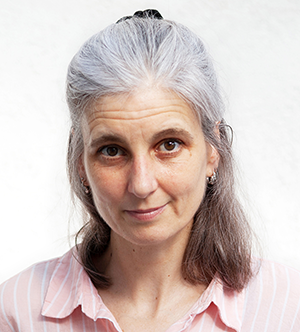 Linda Herzog
E-Mail

Postal Address

Universität Bern
Graduate School of the Arts and Humanities (GSAH)
Doktoratsprogramm Studies in the Arts (SINTA)
Linda Herzog
Muesmattstrasse 45
3012 Bern

private website
CV
Linda Herzog is a Swiss photographer based in Basel. From 2000 to 2004, she studied New Media and Fine Arts at the Zurich University of the Arts. After living in Turkey for three years, she published her photo essay Mihriban. Turkey 2004-2007. In her following photographic work, she concentrated on migration phenomena and their visibility. In 2017, she acquired a Master Degree in Art Education from the FHNW HGK in Basel. Her photographs have been exhibited internationally, and published in print as well as online in newspapers and magazines.
PhD Projekt
Ruins – Photographs – Sights
Gertrude Bell's Photographs in the Territory of Present-Day Turkey

In her practice-based dissertation project, Linda Herzog examines the photographs of the British Oriental traveler, archaeologist and diplomat, Gertrude Bell (1868–1926). In 2017, the Gertrude Bell Archive was added to the UNESCO Memory of the World Register and consists, beside other documents, of 7,000 photographs, see http://gertrudebell.ncl.ac.uk/. At the center of the research stands the question of Bell's aesthetic practice: Which representation models, stereotypes, and cultural image repertoires of the "Orient" are reflected in the aesthetics of Gertrude Bell's archaeological photographs and travel pictures? The project critically analyses the European construction of visual knowledge of Asia Minor and the Middle East.
The starting point of this study are the 2,600 photographs taken by Bell in the territory of present-day Turkey. Methodically using comparative analysis, Bell's pictures are compared with historical examples of European archaeological as well as Ottoman photographs, they are analyzed in descriptive reflection. To add a layer of contemporary comparison, Linda Herzog interjects into the research her own photographs which she takes in situ, and offer contemporary visual references to the present. Thus, Bell's aesthetic practice is examined from both historical and contemporary perspectives. The purpose of this research project is the multi-dimensional analysis of Bell's photographs in the field of tension and interplays in photography, archaeology, and Orientalism.

Supervisors
Prof. Dr. Nadia Radwan, Institute of Art History, World Art History, University of Bern
Prof. Dr. Priska Gisler, Institute Practices und Theories in the Arts, University of the Arts Bern
Prof. Dr. Mirko Novák, Institute of Archaeological Sciences, Near Eastern Archaeology, University of Bern
Research priorities
Gertrude Bell, Visual History, Asia Minor, Artistic Research, Orientalism