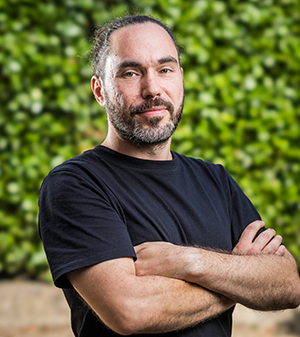 Max Frischknecht
E-Mail

Postadresse

Universität Bern
Graduate School of the Arts and Humanities
Doktoratsprogramm SINTA
Max Frischknecht
Muesmattstrasse 45
CH - 3012 Bern

Pers. Website
CV
Max Frischknecht is a design researcher, programmer, and graphic designer. Currently, he is a Ph.D. Student in Digital Humanities at the University of Bern and part of the Sinergia research project Participatory Knowledge Practices in Analog and Digital Image Archives, funded by the Swiss National Science Foundation (SNSF) from 2021–2025. Max holds an MA in Design from the Bern University of the Arts HKB, where he conducted a research project on the role of personal data in political communication in Switzerland's social networks. As a self-employed designer and programmer he works for a variety of clients from the fields of architecture, science, education, fashion, and art. As a member of the Digitale Gesellschaft he engages with questions around Digital Sustainability, Tracking and Profiling. Max lives and works in Basel and St.Gallen.
PhD project
Digital-participatory Knowledge Visualizations
The digitization of cultural collections has become increasingly important in recent years. Great expectations are placed on digital technology concerning possible participation by the general public. However, the first years of experience have shown that digital availability alone does not automatically lead to broader use of cultural collections. Participation, however, is relevant insofar, as it can break the hegemonic power of archives and democratize the decisionmaking process of archiving. In this way, marginalized groups can be given a voice in cultural archives. To make digital archives and their complex contents accessible, interface design and information visualization are of fundamental importance. So far, however, these have been studied mainly in terms of accessibility and less in terms of participation and a critical reading of archive structures. In my research I would therefore like to explore the question of how are visualizations capable of promoting critical reflection and foster participation.
Supervisors
First supervisor: Prof. Tobias Hodel, Digital Humanities, University of Bern
Second supervisor: Dr. Ulrike Felsing, Institute of Design Research, Hochschule der Künste Bern